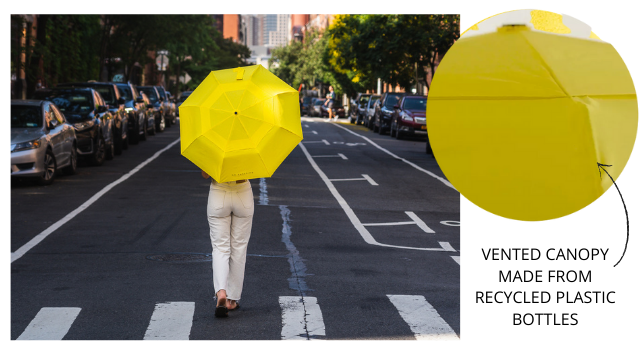 Be Sunshine Umbrella
Our signature umbrella, Be Sunshine, is beautifully crafted to be innovative in purpose and function. With a waterproof case, lined with micro-fiber enhanced towel, Umby can be stored in your bag wet or dry. 
This umbrella is on a mission: to bring sunshine to all your rainy days and support a family in need with one year of insurance.
Made with a recycled frame, windproof canopy and towel-lined case, throw it in your bag and be ready for whatever adventures your day brings!

Made with bamboo handle, recycled aluminum frame and recycled plastic canopy

Unique vented canopy allows wind to escape making the umbrella windproof

The microfiber towel lined case is waterproof and allows you to carry your umbrella wet or dry

The durable and recycled canopy provides UV protection so you can enjoy this umbrella in sun and rain

Gorgeous product, even more beautiful cause
I love my Umby! What a treat to choose a case made by one of several global artisans… fabulous new feature! We have several Umbys now and they have lasted so well. They're happy and bright and well made, and I love telling people about the company and about micro-insurance whenever they remark on how cute the umbrellas are. I'm a customer for life!
Sunshine Umbrella in red
It was exactly as described. The cover is very attractive. It fits in my purse.
Give a Gift if "Be Sunshine"
This lovely and cheerful umbrella was a very well-received present. And it provides funding for a worthy cause. A great gift!
Great Umbrella, Worthy Cause
I was given a Be Sunshine Umbrella as a gift. It is so cheerful and lovely to use on a rainy day! And the purchase helps a very worthy cause! I like my umbrella and the cause so much that I recently purchased two umbrellas to give as gifts.
customers are viewing this product
Your purchase can #BeSunshine
Purchase an Umby
Your purchase provides
one year of insurance
for a family in need
The insurance each family receives protects them from sliding into poverty in the face of unexpected events.

Together, we are building more resilient communities by providing a safety net.
Learn more about umby